We're going to use a Seadoo RXP-X simply as an example for the research we've been doing, though this is relevant to all types of PWCs. 
The dry weight of a Seadoo RXP-X (2008 model) is 774lbs and assuming you keep the fuel tank full, ready for your guests, lets + 95lbs of fuel (1 gallon of petrol is approx 6lbs, 15.9 gallon capacity in a RXP-X tank) = 869lbs, excluding fire extinguishers and other safety equipment you may carry on the PWC. 
We are looking at a weight to be lifted between 870lbs and up to 1000lbs. 
If you reduce the angle of load to 20 deg like the system being used in Example A - you can do your own maths regarding the amount of stress being applied to each leg of your sling system... Now consider how a jetski (PWC) is manufacturered, or just take the seat off and feel the thickness of the topside (just a few mm), is it really such a good idea to fit pad-eyes to the top side, regardless of the lifting angle?
Example A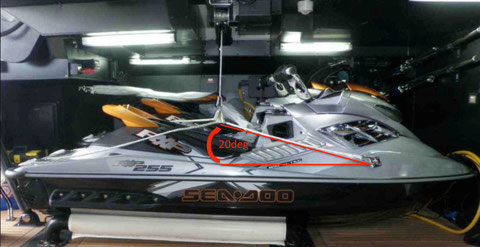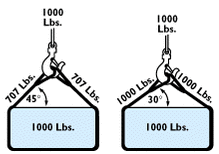 Example B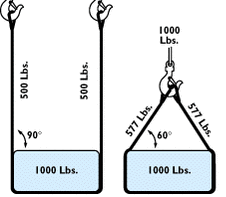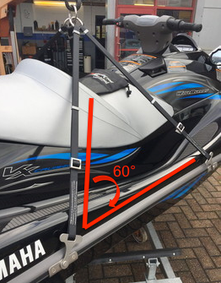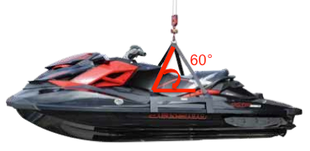 Putting load onto the manufacturer fitted D-rings on the transom/hull of the PW is one thing as they are designed for load (though how much we don't know?), but on many PWs, as in example A, pad eyes have been retro-fitted to the bow, an area of the PW with fairly little structural integrity as its not built to take any weight, load or impact unlike the hull. 
Regardless of the size of the spreader plate behind the pad-eye or of the angle of your sling, in our opinion its surely obvious from the data above that the integrity of the PW is being compromised as it is under enormous stress which potentially far exceeds the load capacity the top side was built for? 
So, if you do intend to utilise systems such as retro-fitted pad-eyes, please at least ensure that the entire set up has been proof loaded to 125% - save yourself, your crew and your vessel from any undue incidents. Just read page 11 of the Investigation report (Cayman Islands Shipping Registry) to see that the slings that caused a crew fatality in 2010 were not tested and had no certification. Up until this crew fatality it was standard practice to use these hook style lifting systems, but Yachts started moving away from this due to numerous issues and reports of them 'slipping' during launch/recovery and the standard 'fix' since then is fitting pad-eyes with spreader plates hidden behind simply because there were no barely any other options available. 
Regulations as simple as LOLER (1998) state that all equipment used for lifting is required to be fit for purpose, appropriate for the task, suitable marked and in some cases subject to statutory periodic thorough examination. Much of the time ISM far exceeds this but can be overlooked. 
Now tell us, if you're stood under or near that PW when it is hanging off the hiab/davit on your yacht and it drops to the deck that you're going to be ok about it? 
There are other solutions out there now, we're certainly keeping our ear to the ground regarding these. Currently we're rather keen on THESE lifting slings, on the basis that they've been tested/certificated and they are fitted to the strongest part of the PWC (bonded rail) plus they are actually attached to the PWC rather than hooked under.
Until the manufacturers design something that they approve and recommend to lift PWC/jetskis we are stuck continuing to use other 'inventions', but as long as these systems are correctly tested and certificated; then things bode well.
---
References: